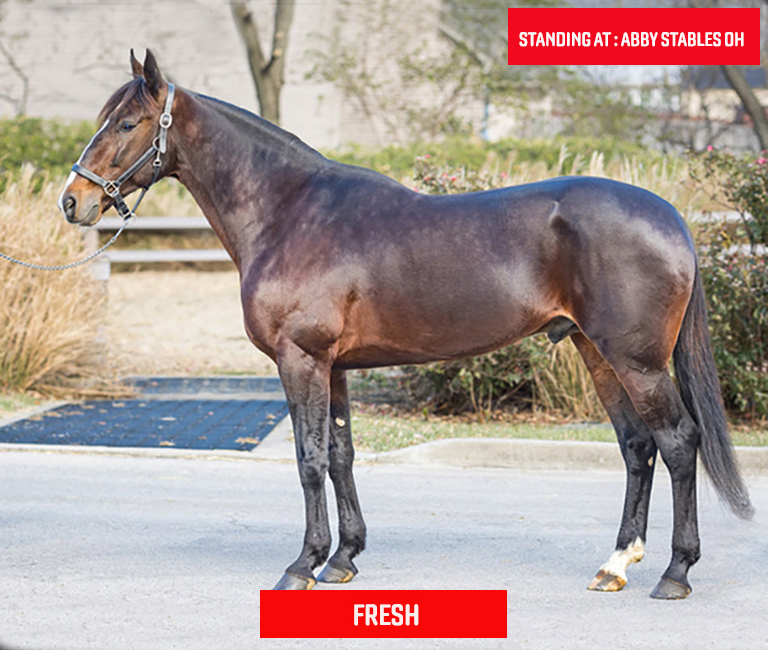 STANDING AT : ABBY STABLES OH
Adress : 2990 OH-93, Sugarcreek, OH 44681, United States
• He finished second in his Hambletonian elimination behind Delayed Hanover.
• Cuatro De Julio was given some time off after the NJSS final and won a qualifier at the Red Mile on June 30th before coming back to the Big M for the Stanley Dancer. He finished third in his division on July 17th behind Hambo finalists Sonofamistery and Captain Corey.
• His first start as a sophomore was a 1:53.1 win in leg one of the New Jersey Sire Stakes. He followed that up with a second place finish in leg two of the NJSS. He also finished second in the NJSS final in May behind Hambletonian contender Really Fast.
• He finished his two year old season by making a break in his Breeders Crown elimination and failed to make the final.
• Cuatro De Julio finished second in his Bluegrass division and capture his International Stallion Stakes division in 1.51.3 over fellow Hambletonian finalist Delayed Hanover over the famed Red Mile track. He also won a KYSS division in 1:51.4.
• He won two KYSS legs but broke and finished seventh as the heavy favorite in the final at the Red Mile in Lexington, KY.
• Cuatro De Julio's career began on the Kentucky fairs circuit, where he won six of seven races including the season-end final at Lexington's Red Mile. His only loss came in his debut when Marie drove him at the Ballard County Fair.
• Lucas Wallin, 29, is making his debut as a Hambletonian driver. He has trained three Hambletonian Oaks finalists: Ab'sattitudexpress in 2020 and Princess Deo and Queen Of Trix in 2019. Princess Deo was the highest finisher, coming in fifth.
• Wallin picked up the drive on Cuatro De Julio in May when regular driver Louis Baudron was unable to travel to the U.S. due to Covid restrictions.
• Wallin grew up in Sweden, where he was driving ponies at the age of 8. Several years later, he began helping at his uncle Joakim Wallin's stable. In mid-2014, he was alerted to an opportunity to work for Ake Svanstedt's U.S.-based stable. He spent two years with Svanstedt before deciding to go on his own.
• For his career in the U.S., he has won more than 110 races as a trainer and 36 as a driver.
• For more than a decade, Marie battled a variety of debilitating health conditions, from blood disorders to a rare congenital heart defect known as Ebstein's anomaly. She nearly died on multiple occasions and was forced to give up training horses for the better part of eight years. She still worked with babies at Dubois' breeding farm, but her illnesses had taken a toll on her physically and mentally.
• "I would say when he was one month old, he was very special; very special, very smart," trainer Marie Ortolan Bar said. "When he was four months, he would follow me everywhere. I would say, go play with your friends. But he followed me everywhere. He was the dominant one. He was always the first for everything.
• "The way he moved was not so beautiful, there were others more elegant, but what I loved was the shoulder, the neck, the bottom, and he was never sick. He was never weak. I told everybody, when he was seven months, I have a good horse. I told everybody that this one is special. If you meet Cuatro, you will fall in love."
• "Working with horses is a passion," Marie said. "We all have a dream and we have to follow the dream, but there is a lot of sacrifice. The recompense now is Cuatro. This horse saved my life."
• Born in France, Marie Ortolan Bar now resides in Stanford, KY. She began training in the U.S. in 2008 and is nearing $800,000 in career earnings.
• Sire Trixton won the Hambletonian in 2014. His offspring have earned over $10 million from 213 starters.
REQUEST FORM